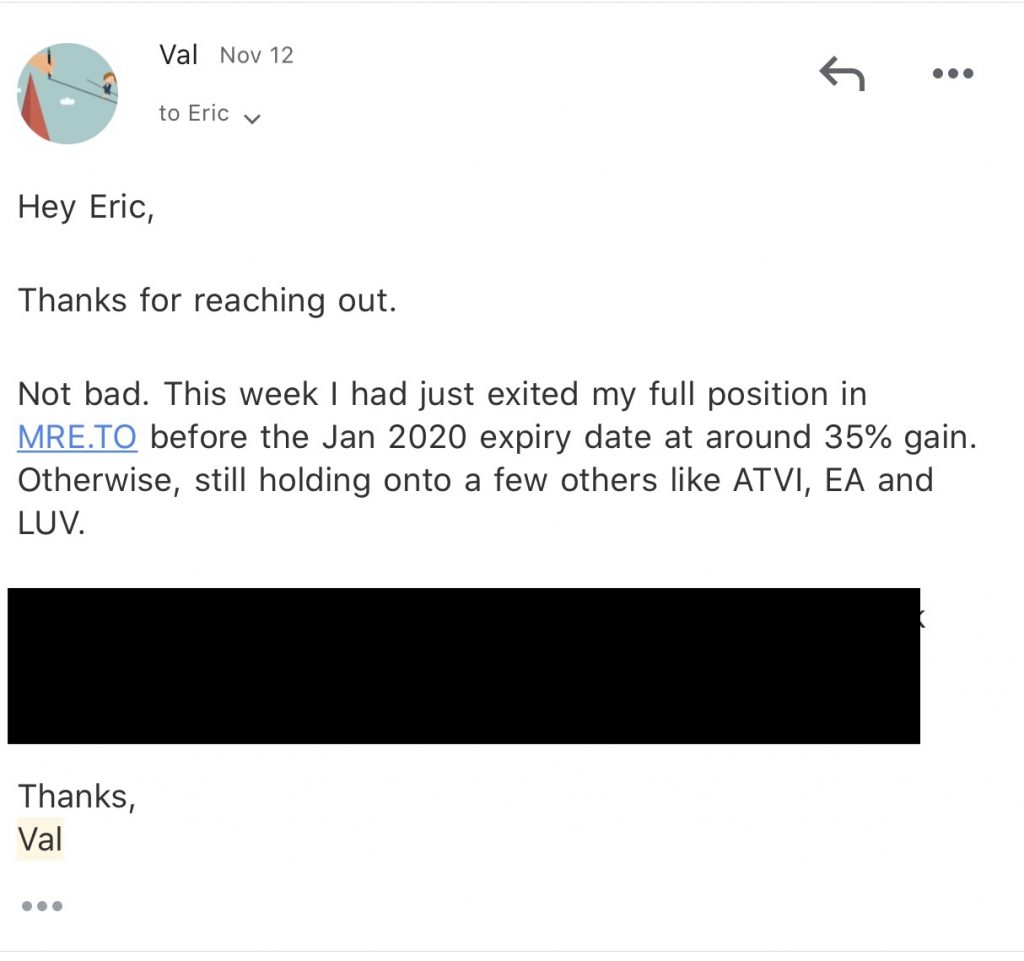 Another great success story from Val in Investing Accelerator.
After learning the strategy in Investing Accelerator, Val became an independent thinker and decided to invest in stocks that she believes in.
She actually invested in MRE (a Canadian stock) by herself without asking me for a second opinion.
In just less than 1 year, she exited her full position for 35% gain.
Good job Val!
A lot of people ask me…
Why don't you just manage my money, Eric?

Yes, I can manage your money (hypothetically).
But that doesn't truly help you. There's no transformation, no change in life.
When you take on the responsibility and learn how to invest, it will forever change your life.
Like Val – you will learn how to make great investment decisions on your own.
I will still be here to support you (if you need me).
Why?
Because once you learn how to invest, you will now think differently.
You become smarter.
That's a permanent transformation. That's life-changing.
I could have easily taken the "simpler route" of managing your money. But I don't. What's the fun in that?
Where's Eric?
I just got back from Paris yesterday night and spending some time today with my family.
As EA just released its new game – Star Wars Jedi – Fallen Order, I am just bought it online and now I am installing it on my PS4.
Fairly excited to get my hands on this new game.
Also, I have been watching the new Star Wars TV series – Mandalorian. If you haven't watched it, make sure to check it out. There are quite a few twists and surprises in the first two eps.
If you have any questions before you join Investing Accelerator, you can schedule a call with me here (Schedule a call).
Cheers,
Eric